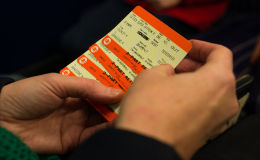 Plans to close rail ticket offices have been withdrawn by train operators following Transport Focus and London TravelWatch objecting to all of the current proposals.
Transport Focus and London TravelWatch received 750,000 responses from individuals and organisations to their consultation on the planned closure of rail ticket offices. The Secretary of State for Transport announced the outcome of the consultation and that the Government has asked train operators to withdraw their proposals.
The main themes that emerged from the responses included ticket machine capability, accessibility and how passenger assistance and information would be delivered in future.
Transport Focus's discussions with train companies led to significant amendments and revisions to original proposals, demonstrating the value of this independent review process. Many revised train company proposals re-instated existing staffing hours, identified new and innovative solutions, promised extra facilities to sell more tickets and all ticket types and cope with cash payments and refunds.
Transport Focus is supportive of the principle of redeploying staff at some stations from ticket offices to improve the overall offer to the passenger. It also recognises the extreme financial pressure facing the railways and the need to find new, cost-effective ways of working. However, the detail around some of the proposals, particularly new customer support arrangements, were not yet well-developed. A lack of an overall delivery plan also raised concerns that closures may occur before new arrangements are in place. While many of the revised station proposals failed to meet the criteria set by Transport Focus, across all proposals, there were key issues, that are critical to maintaining accessibility for all to the national network that remained unresolved.
Transport Focus chief executive Anthony Smith: "Passengers must be confident they can get help when needed and buy the right ticket in time for the right train."
👉 Read more here