Passenger rights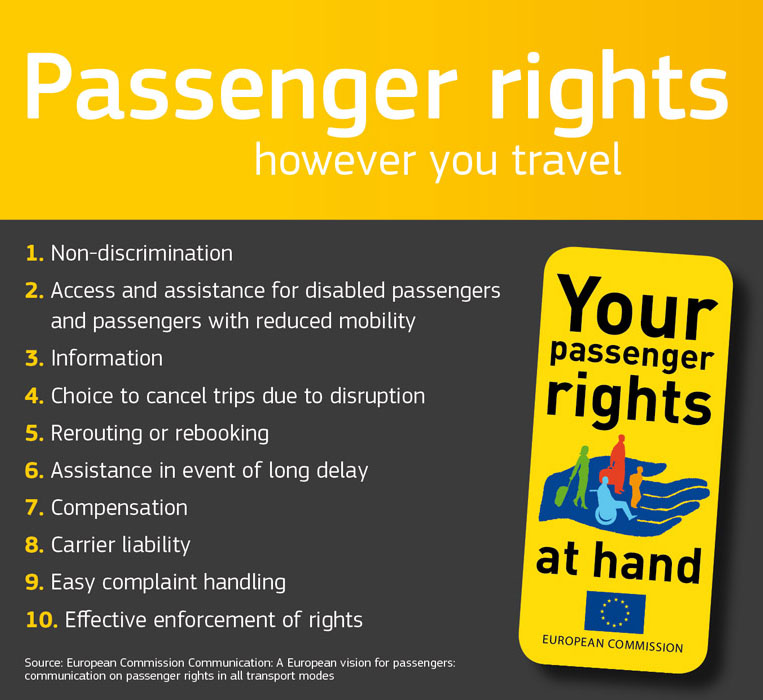 Europe has experienced a boom in mobility over the last decades. To protect citizens and to ensure they are not lost in national rules, the EU has adopted community legislation covering passenger rights – across all transport modes.
Did something go wrong with your trip? Have you experienced delays and cancellations? Do you have special mobility needs? As an air, rail, ship or bus passenger, you have rights when travelling in the European Union.
EU passenger rights are adapted to each means of transport, but in essence, the rights that apply to all types of transport are comparable. They are based on three key principles: non-discrimination; accurate, timely and accessible information; immediate and proportionate assistance. These principles are the foundation for ten basic rights that form the core of EU passenger rights policy.
A very useful Passenger Rights smart phone application is available for all Windows, Apple (iPhone and iPad) and Android devices in 22 languages – the best way to have Your Passenger Rights at Hand!
More on air passenger rights | rail passenger rights | bus and coach passenger rights | ship passenger rights | rights of travellers with reduced mobility
A recent Eurobarometer survey (2014) has shown that only one in three EU citizens are aware of their passenger rights. In the video statement below, European Commissioner for transport Violeta Bulc explains that it is an important priority to make sure all Europeans know their rights travelling.