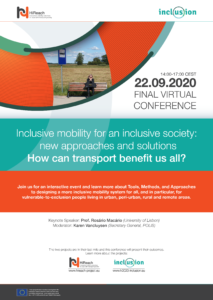 The HiReach project, in which EPF is a partner, is approaching its final stage.
Save the date!
On 22. September, HiReach and its sister project Inclusion will jointly organise a final – virtual – conference to present their main outcomes: Inclusive mobility for an inclusive society: new approaches and solutions. Join us for an interesting and interactive event, and learn more about Tools, methods and approaches for designing a more inclusive mobility system for all – especially vulnerable to exclusion groups.
Keynote speaker: Prof. Rosário Macário (University of Lisbon)
Moderator: Karen Vancluysen (POLIS)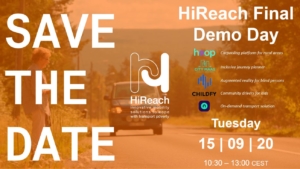 HiReach project is also organising a Final Demo Day on September 15, where the best 5 startups of the HiReach Startup Lab will showcase a proof of concept of their transport poverty solutions.
Find out more about both events and register here on the HiReach website!
We need your feedback!
10 start-ups were shortlisted by HiReach: https://hireach-project.eu/content/10-selected-startups.
Which ones have most potential for scale-up and transferability? We would be very interested in hearing your opinion. Please contact us for more information!
Tandem is a startup from the UK is creating the next generation of mobility in smaller cities and towns, starting by turning local taxis into shared micro-buses. They are hosted in Lincolnshire County, in the UK.
Dreamwaves from Austria is developing a navigation and orientation solution to assist blind and visually impaired people in overcoming their mobility challenges. They are hosting their own pilot in Vienna.
Nemi from Spain is bringing inclusive, efficient and sustainable demand-responsive mobility to those areas with inexistent or ineffective public transport. They are hosted by a pilot in Southern Salento, Italy.
Lamiloo from Germany is ubereats for pharmacies, and they offer local pharmacies a service for drug deliveries by bike, from the pharmacy to the end customer. Making drugs accessible for everyone! They are helping a particular vulnerable segment of the population – the elderly – staying at home during the outbreak.
Childfy from Spain is a safe riding service for the new generation helping parents to reconcile work and family life. They are hosted with a Malaga non-for-profit organization.
Neobility from Romania mission is to help vulnerable people around the world access shared mobility cheaply and safely with a fleet of on demand vans that are more affordable than services like uber.
CityMaaS from the UK uses AI & Data to enable inclusive travel for disabled people with self-filtered accessibility data layer & self-adaptive UX/UI, and they will be hosted by Valpi Bus in Portugal.
Hoop from Spain aims to transform the private car into a social and sustainable means of transport, by connecting people to share their everyday rides. They are hosted by El Escorial Hospital conducting a trial on patients and medical staff transportation.
B2RIDE from Germany offers a fully managed carpooling solution to reduce cost of parking & mobility and to avoid individual traffic & emissions. They are running their own pilot in Austria.
Mobito from Belgium offers an orchestration mobility activity service through a platform that facilitates the provision of mobility services and information. They are hosted by the Municipality of Valongo in Portugal.