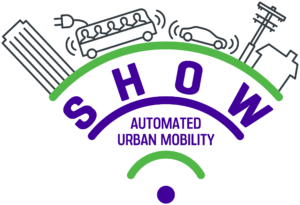 The H2020 project SHOW supports the deployment of shared, connected, electrified automated vehicles in cities, to advance sustainable urban mobility. Real-life demonstrations will take place in 20 cities across Europe, to test the integration of automated vehicle fleets in public transport, demand-responsive transport (DRT), Mobility as a Service (MaaS) and Logistics as a Service (LaaS) schemes.
In order to foster users' and stakeholders' engagement in the project and to develop solutions matching with their needs, ERTICO – together with EPF, CERTH & UITP – is organizing a series of Ideathons, Hackathons and Focus groups.
Οur first – online – Ideathon will take place on January 15th 2021 and we would really like you to participate, as we believe that you can offer great added value and we would really appreciate your input!
What's in it for you?
 By participating in the SHOW Ideathon you will:
Contribute to the development of automated urban mobility solutions that address end-users' real needs
Get access to advanced knowledge on automated mobility and gain insights in the needs of different user groups
Be part of the biggest and most holistic initiative ever piloting automated vehicles in urban environments in Europe.
Register now! Seats are limited so don't wait (we will confirm your participation).
For more information, visit our site or contact: Dr Nikolaos Tsampieris (n.tsampieris@mail.ertico.com), Frank Daems, (f.daems@mail.ertico.com) or Jana Habjan (j.habjan@mail.ertico.com).