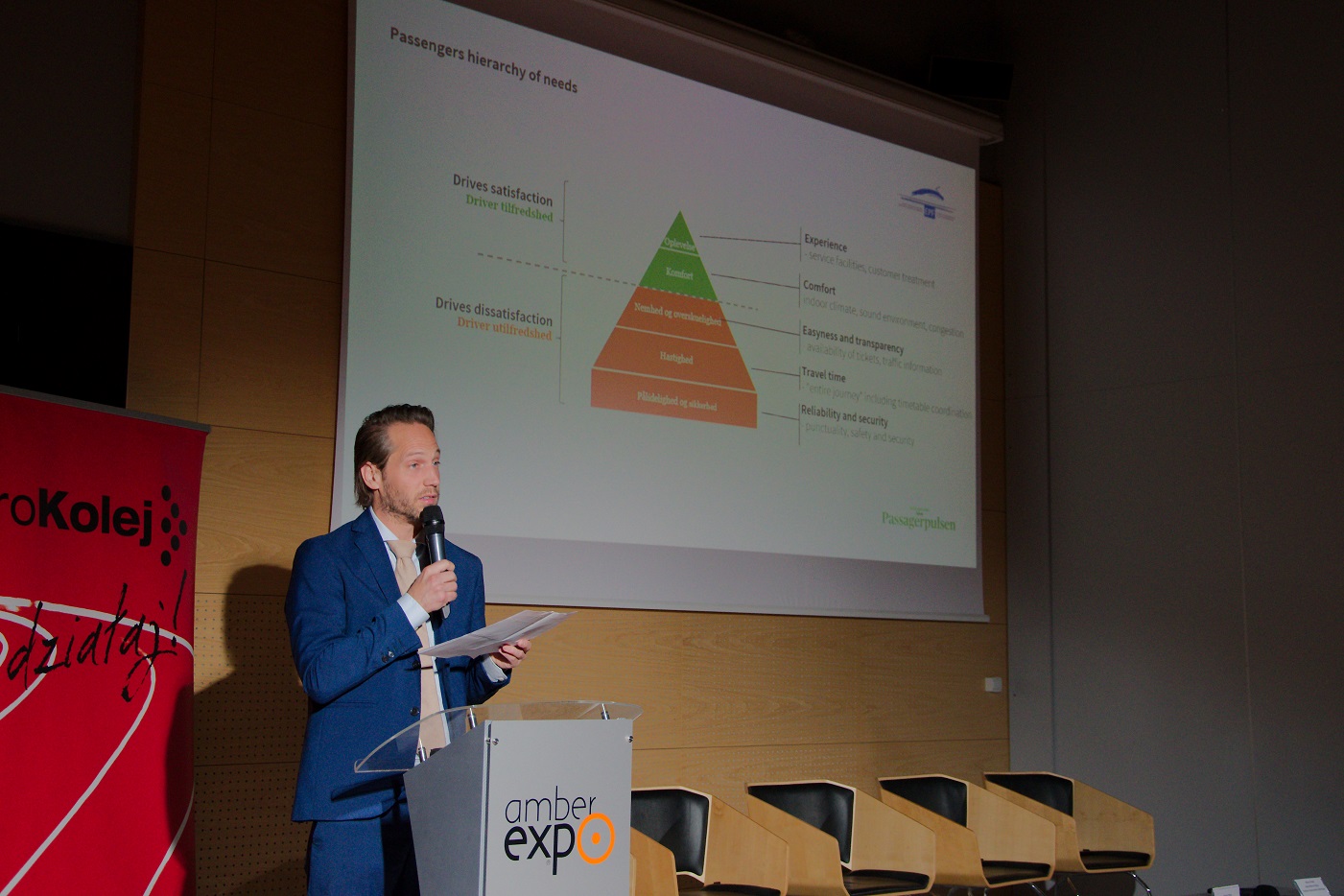 EPF participated in the Night Train Seminar at the TRAKO fair the 22th of September in Gdansk. The seminar was organized by ProKolej and moderated by their chairman Jakub Majewski. Representatives from ÖBB, UK's Department for Transport and Siemens Mobility participated among others. EPF was represented by Emil Frodlund who made a presentation that highlighted the end user needs but also mentioned some operational challenges that night train services implicate.
Emil presented 'The Passenger's Pyramid of Needs', an adaptation of Maslow's hierarchy of needs made by Passagerpulsen. The pyramid illustrates the passengers' primary needs are reliability and security, easiness and accessibility to ticket and information. The presentation also stressed the environmental benefits of train travel compared to other modes. For example, a journey between Paris and Berlin with car or air, causes 6 times more CO2 emissions compared to going by train.
In the beginning of September, the European Commission presented results from the Cross Border and Night Train Study. The results show that that the frequency of night trains have decreased with 65% while high-speed trains almost have doubled in 20 years. You could also notice that the vast majority still operates by the incumbent train companies and only 3 % by new entrants.
Why is it important to offer a comprehensive night train network? Night trains can offer attractive long-distance rail journeys by "cutting" down the travel time duration with one night's sleep. A night train line could also be connected or combined with additional rail and public transport services which allows attractive connections from multiple destinations. To open certain strategic night train links could therefore be crucial from a network system perspective.
According to recent studies, customer satisfaction generally is high on night trains, and might have risen during the pandemic due to the privacy that can be offered in compartments compared to open car lounges. However, the increasing demand for higher level of service in sleepers, such as compartments with own shower and WC, is in conflict with the current sleeper rolling stock supply which mainly consists of old-fashioned carriages.
One of the main problems with night train services is that the operational costs are high compared to day train operations. Night train carriages are often designed to only be used in one traffic circulation per day, in contrary to day trains or aircrafts, and sleepers have fewer seats/beds per carriage. However, since the recent evolvement of Flygskam/Flightshame both individuals and companies that do not want to fly, are more capable of accepting quite expensive night train journeys.
Lack of capacity at major hubs is one shortcoming when it comes to get a suitable timetable, attractive to passengers, during the morning rush hour. As capacity allocation is handled by national authorities, regional and national trains may tend to be prioritized ahead of international trains.
EPF's Night Train Position Paper was presented where statements like ending tax exemptions for airlines and accelerating the regulatory process for harmonization of rules and standards to facilitate cross border rail services were also declared.
The presentation can be downloaded here.