We are less than one month away from the World Passenger Festival, which will be hosted at the Beurs van Berlage in Amsterdam, Netherlands from November 16th to 18th.
EPF's board members look forward to participating in the different panel discussions and interacting with likeminded global public transport leaders who are driving forward the strategy, technology, and innovations that shape the future of sustainable transport and mobility.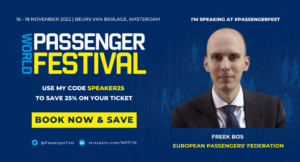 Freek Bos, member of the EPF Management Board, will partake in the panel discussion "How to give passengers back control with real-time information". This session aims to reveal the biggest barriers and challenges to delivering information to the right people in the right ways. In this respect, Freek believes that receiving no information is worse for the passenger than receiving uncertain information. It is therefore vital for operators to be transparent, and open data is key for this purpose. Similarly, Freek believes that there are plenty of innovative applications and websites that can help passengers receive real-time information. Yet regarding technology, he questions if AI and predictions can be used to inform passengers.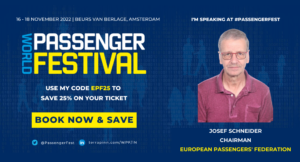 Josef Schneider, Chairmain of EPF's Management Board, will participate in a panel discussion entitled "How can ticketing help us cross borders?". This session aims to discuss how ticketing technologies and other efforts can ease cross-border travel for passengers. In this regard, Josef believes that tariff regulations should be uniform, and that price jumps should not occur when a connection crosses borders. He also stresses that information on prices, service options, and offer conditions must be complete and reliable, and that comprehensive language is important for travellers from foreign countries. 
We look forward to discussing these topics and more at the World Passenger Festival. We hope to see you there!