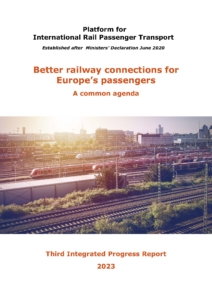 On 1. June, the Platform on International Rail Passenger Transport* published its third integrated progress report. The report includes the main results, conclusions and follow-up actions in the topics from the indicative workplans from 2021 and 2022.
On rail ticketing, both voluntary sector actions and the discussion for regulatory progress are addressed, to boost international rail tickets distribution at short to medium term. On the development of a network of international rail passenger services, important instruments in capacity allocation are addressed. The needs of the market for night train services are described. It is encouraging to see new market initiatives for international rail passenger services materializing. The progress report mentions e.g. the net high speed trains services from Milan to Paris, night trains from Berlin to Sweden, and studies for Amsterdam – Frankfurt – Vienna – Budapest. There was strong participation and support for developing a broader EU approach on air – rail cooperation, where rail has the potential to partly replace short-haul flights. To support the application of the existing regulatory instruments in line with EU legislation, recommendations are developed to support the development of open access services and where necessary application of crossborder PSO-contracts.
The full report is available here.
* International passenger rail transport is presently not performing to its potential within Europe. Therefore, on June 2nd 2020, European Ministers of Transport decided to establish the Platform on International Rail Passenger Transport (IRP). The Platform works together with all signing EU Member States and third countries, the European Commission, the European Railway Agency, Shift2Rail / EU-Rail, OTIF and rail sector organisations. Cooperation through this platform aims at improving the international passenger transport by rail, thereby contributing to the EU Green Deal and the EU Sustainable and Smart Mobility Strategy. EPF co-chairs the Mirror Group that represents rail sector stakeholders in the Platform's work and is also heavily involved in the work of subgroup A on Customer Experience.