Dennis Fancett. European Passenger Group Member
Amongst its other activities, Railfuture's European Passenger Group, a sub-committee of the Passenger Services Group, compares how the rail industry works in the UK with what happens in Europe, with a view to seeing what we can learn from our European neighbours about how to improve services here in the UK.
In many areas the UK appears to be ahead of the rest of Europe. Even though competition is far more advanced in the UK than our European neighbours, this does not mean our rail industry is less integrated. An example is Delay Repay, where compensation for the entire journey can be claimed even if it involved two or more operators but only one operator's train was late, although recent lobbying by the European Passenger federation, to which Railfuture is affiliated, may result in a significant leap forward for passenger rights being enshrined into EU legislation.
But one area where our European colleagues are however clearly ahead than the UK is that of combined rail – air ticketing. By this, I don't just mean your airline selling you a train ticket to the airport; we are talking about airlines considering cities and towns that people want to travel to and where it is not practical to serve that city by direct flights, offering a combined air – rail option from an airport they do serve.
The advantages of this may not be too obvious for those living in London, which has good flight connections to most European capitals and a reasonable selection of European regional cities as well. But for those living in the UK provinces, whilst regional airports might have direct flights to several European capitals, the chances of there being a direct flight from your regional airport in the UK to the regional airport in Europe are quite slim.
Germany already offers an add-on rail ticket from any German airport to any of its 5,600 rail stations via Deutsche Bahn, but many airlines go further by offering routes to selected regional cities that they either do not serve at all, or only have a poor service to, by including a train leg where there is a direct connection to an airport they do serve.
Consider for instance a journey from Newcastle to Lyon, one which I needed to make recently. Now, there is a direct flight from London to Lyon, and so from Newcastle, one option is to fly via Heathrow. But this gives a 6 hour stop-over (as well as a terminal change) at Heathrow, making the journey take all day, and longer than flying to New York.
A second option offered by commercial flight-booking websites such as ebookers is to fly via Amsterdam Schiphol. This however is going from one extreme to the other; the change time at Schiphol is just 40 minutes and even though it's offered as a direct connection, given that passenger will need to go through immigration formalities at Schiphol (as that is the point at which the Schengen area is entered), experienced travellers might thing that is cutting things a bit too fine.
The third option looks favourite: it's via Paris Charles de Gaulle and offered by Air France. Closer inspection however reveals the Paris – Lyon section is not a flight at all, but a direct TGV train from the integrated airport station through to Lyon. Further examination reveals there are two airport codes for Lyon – though only one airport! LYS is Saint Exupery Airport whereas XYD is Part-Dieu Gare SNCF. A "flight" that brings you right to the city centre!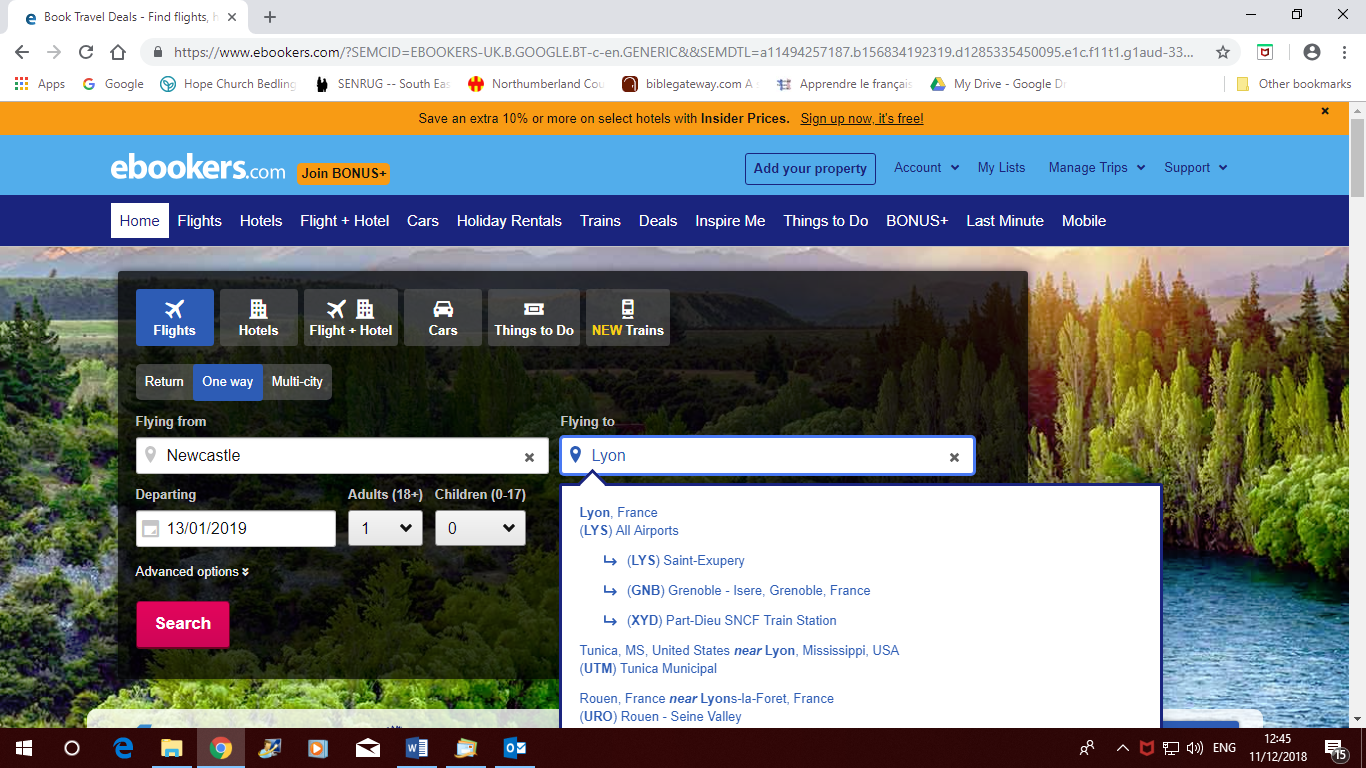 Ebookers website screenshot showing the "airport" option for Lyons Part Dieu Station
Newcastle – Strasbourg is another example of where your second hop will be by fast, comfortable TGV train, again direct from Areoport Charles de Gaulle station.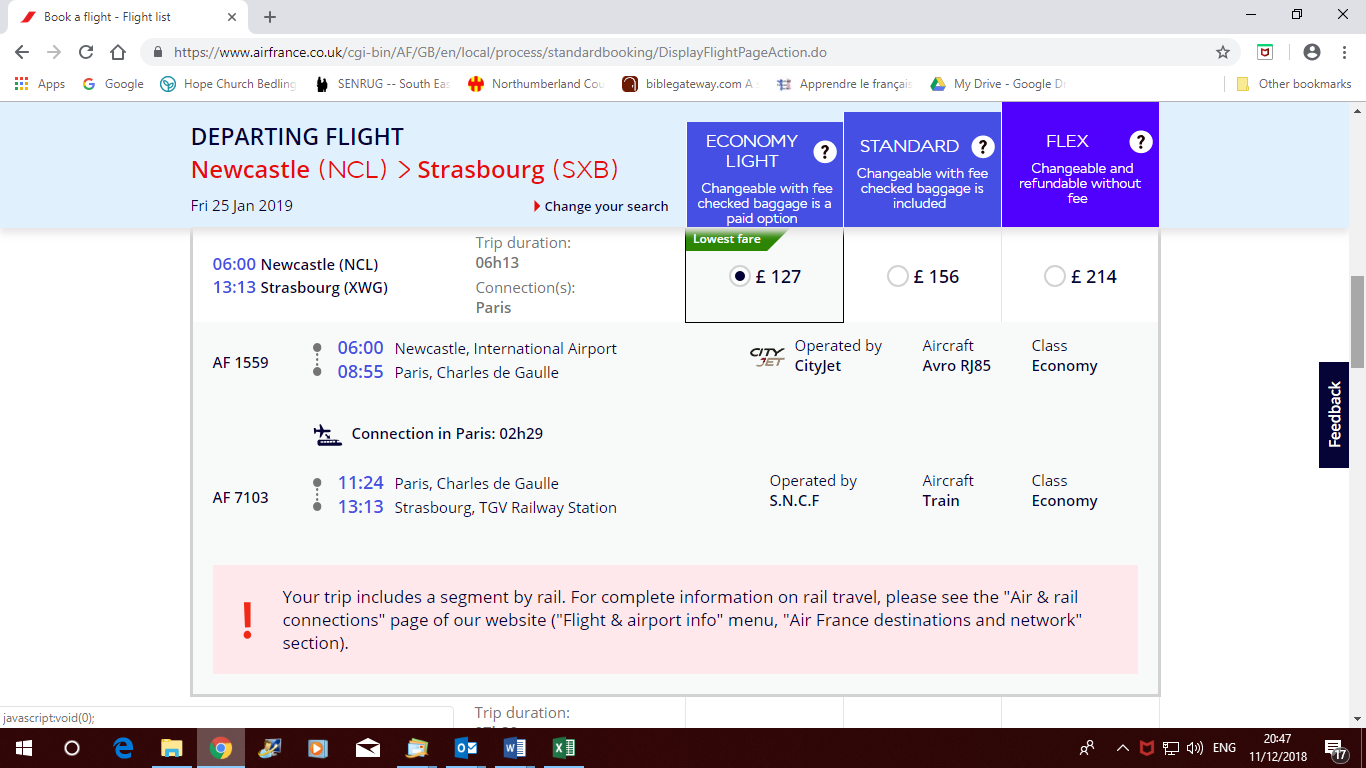 Air France website screenshot showing Newcastle – Strasbourg with the Paris – Strasbourg leg by train
Such train add-ons are not limited merely to domestic hops. Returning from Zurich airport from a recent EPF General Meeting, flying to Newcastle via Amsterdam, I sat next to someone who was travelling from Zurich to Ghent. You've guessed it: that was by air to Amsterdam Schiphol then train to Ghent, on a single integrated ticket sold by KLM. In this case inclusive of an international train journey across the border from The Netherlands into Belgium.
I had already noticed, whilst passing time in the Departures Lounge at Zurich airport, that the airport CIS screens showed the Gate Number for some outgoing flights as "Bahnhof". In other words, they weren't flights at all. Passengers were being directed to make their way to the integrated airport station for onward travel by train to a number of cities, including Budapest in Hungary.
European airlines seem more willing to think out of the box about how to get customers to where they really need to go, and their lateral thinking is not confined to train add-ons either. My daughter recently spent a year working in Al Qatief, Saudi Arabia. KLM offer direct "flights" from nearby Al Khobar to Amsterdam, but passengers are told to check-in at a downtown minicab office, and the first leg is a short taxi ride across the border bridge to Bahrain Airport!
Returning to train add-ons, what possibilities are there for the UK? York, Hull and Leeds via Manchester Airport seem obvious, whilst airlines serving Gatwick could offer Brighton or Guildford; Cambridge via Stansted is yet another example. With the Elizabeth Line opening soon, Canary Wharf via Heathrow becomes a further possibility.
Eagle eyed readers will however by now be challenging some of the possibilities:
Liverpool has its own airport – so why serve it via Manchester? And Canary Wharf is better served by City Airport, so why promote a routing via Heathrow? Lyon and Strasbourg have airports of their own too. The point is that regional airports are unlikely to have direct connections to every other regional airport, but the airlines are thinking through how to maximise passenger numbers on the routes they do operate – and onward train connection is the answer. Railfuture should applaud that thinking.
How then do we get such an enlightened approach regarding air – train thinking in the UK? There are already glimmers of hope on the horizon. TPE for example operate "airport advance" tickets from Manchester Airport – competitively priced advance tickets with special conditions allowing your ticket to be honoured on the next train should the incoming flight be late. That's a good start, but we need to go further, with full through integrated train – plane – train ticketing, as happens in Europe.
Railfuture's EPG has already started talking to train companies about the idea, and will continue to lobby. A correspondent in December's Railwatch thought legislation might be necessary to bring about this brave new world. But I very much doubt that is the best approach for two reasons. Firstly, legislation is rarely the way to get two parties to co-operate with each other if they don't want to. Convincing each player of the commercial advantage of the idea to their own business is a much more positive way forward. Secondly, it's most unlikely any UK government would be willing to prioritise such an idea for primary legislation. And we can expect a backlog of political initiatives requiring parliamentary legislative time once the Brexit issue is finally put to bed. Train operators' licences could of course be amended at the next franchise renewal but that won't compel airlines to co-operate. And it's not just British registered airlines we want to target; airlines flying direct from Europe to UK regional airports tend to be the foreign owned ones.
It does seem that the European air – rail ticket initiatives come more from the airlines than the rail industry. For instance, you can buy a ticket including a train journey from an airline, but to my knowledge you can't as yet buy a ticket including a flight from a train company (which is curious since rail – sea ticketing does exist). So perhaps Railfuture needs to be talking to the European airlines in the first instance. In this respect, it is important to ensure Railfuture is not perceived as anti-flight or anti-airport expansion as such a position will not get us a look in the door, and the UK would sadly risk getting left even further behind as integrated public transport flourishes in Europe. Both rail and air play complimentary parts in helping passengers travel round Europe; Railfuture should be campaigning to ensure that transfer between the two modes is integrated and seamless.