On Thursday 06 July, EPF and the European Union Agency for Railways (ERA) signed a Memorandum of Understanding, aimed at establishing a basis for collaboration.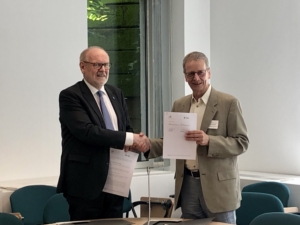 The agreement was signed by Josef Schneider, Chair of EPF's Management Board, and Josef Doppelbauer, Executive Director of ERA. The signing ceremony was held in Brussels and was also attended by EPF's Willy Smeulders, Katie Bulanowski, and Wandi Chivaura, as well as ERA's Max Obenaus.
Through this agreement, both organisations endeavour to foster a mutual understanding of passenger-related railway challenges. We look forward to working together to enhance rail transportation and to make it a more appealing and successful experience for passengers.