EPF participates in the following projects

CIPTEC (www.ciptec.eu)
CIPTEC aims to bring new thinking and innovative solutions (service concepts and business models) into the sector of public transport, in order to create a favourable environment for public transport growth.

IT2RAIL (www.it2rail.eu)
The IT2Rail – "Information Technologies for Shift2Rail" – project is a first step towards the long term IP4 – "IT Solutions for Attractive Railway Services", one of the Shift2Rail Joint Undertaking's Innovation Programmes, which aims at providing a new seamless travel experience, giving access to a complete multimodal travel offer which connects the first and last mile to long distance journeys. This is achieved through the introduction of a ground breaking Technical Enabler based on two concepts:
The traveler is placed at the heart of innovative solutions, accessing all multimodal travel services (shopping, ticketing, and tracking) through its travel-companion.
An open published framework is providing full interoperability whilst limiting impacts on existing systems, without prerequisites for centralized standardization.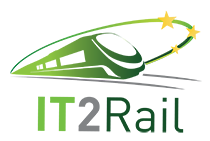 GoF4R (www.gof4r.eu)
The establishment of good governance will effectively secure the confidence of the industry to use the Interoperability Framework (IF) semantic technologies that will be established under the IP4 Shift2Rail program. The objective of the Governance of the IF for Rail and Intermodal Mobility (GoF4R) project is to define sustainable governance for the IF that will create the right conditions to introduce seamless mobility services and foster the development of multi-modal travel services. GoF4R will help to overcome obstacles currently impeding development of market innovation by fostering a large acceptance of the "semantic web for transportation."

Previous EU projects
NODES (www.nodes-interchanges.eu)
New Tools for Design and Operation of Urban Transport Interchanges is a three-year European research project, focusing on the efficient integration of public transport services.



USEmobility (www.usemobility.eu)
The EU project USEmobility applies a new approach to the analysis of European mobility behaviour. It particularly aims to find out why people decided to switch from pure car use to public transport within the past 5 years. In the course of a two-year study (2011-12), our experts have conducted an extensive survey and have developed future scenarios of environmentally friendly multimodal mobility.